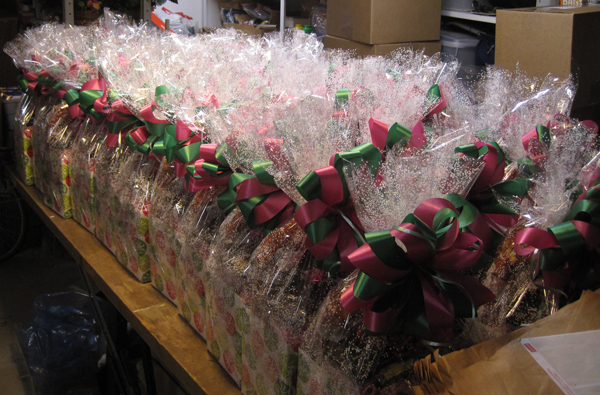 It's been ages since I've sent out an e-newsletter, and recently several clients took me to task* for that and so with promises to do better, here I am once again.  So here is all the news that's fit to print*, and probably some that isn't, but there you are.*
If you haven't been to our 

website

 lately, surf on by – we have completely revamped it, added new items, and continue to make changes and additions every week!
Looking forward to hearing from you soon!
Lise

March dates to Note

​​March 9 – Day Light Savings Begins – spring ahead!

March 14 – Pi day (3.14.) – math people love this.

March 16 – Purim (we have Purim packages!)

March 17 – St. Patrick's Day

and just because everything is in the first half of the month


Upcoming events

From March 15 – 18 I will be attending the International Housewares Show.  I go each year looking at new gift and housewares trends, finding new food items and packing my brain with a thousand different ideas.

This year I am honored to be invited back as a small business consultant, helping people with their business planning.  If you are attending, and would like to meet with me, sign up here.  If you want to meet for lunch, just drop me an email!


Keeping in Touch
It's a brave new world*, and as such there are a myriad of ways that I am working to keep in touch with our clients, friends and business partners.   Clearly, this newsletter is one of them and I sincerely hope you will keep yourself on our mailing list.  (If you don't want to receive this anymore, there is an unsubscribe button below).  Also:
Facebook – my Facebook page has been picking up steam, and I post both the fun and frivolous and occasional specials out there.  I post clearance items to Facebook  first, and I am planning on doing something akin to flash sales*, listed on Facebook first.
Blog – after years of being told I must, I finally pulled the trigger and have started a blog.  I publish about twice a week, aiming for Tuesdays and Thursdays.  Interesting and useful (I hope) tidbits from my universe, upcoming events, and, well its new, so I am not sure what else will end up there.
I can also be found on LinkedIn, Twitter and Google+
I sincerely hope you will join me in one of my social media outlets.

* By the way*, to find out the history of all those words with *,  visit our blog tomorrow!