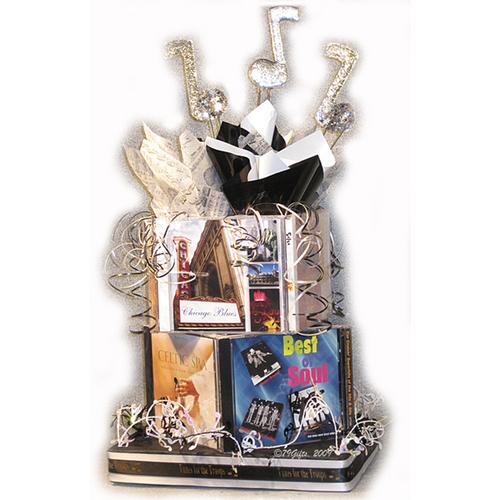 "When Lise stood up at the Northbrook Chamber meeting for some reason I got the impression that she could design a spectacular gift basket for one person or maybe a small group of people. Little did I know she has huge capabilities and loves orders of 2,000 baskets. And here's the thing -- tisket, a tasket every basket is a work of art filled with delights everyone loves.
I don't just love Basketworks; I lurve Basketworks.
Jim Ardito, President Ardito Creative Enterprises "
Music Music Music Centerpiece
This Bar Mitzvah project was to collect cds to send to the military via the charity organization Tunes 4 the Troops. The family brought us several boxes of CDs. We added ribbon imprinted with the charity logo, music theme garland and accents and arranged the cds on styrofoam bases for a simple yet fun centerpiece. After the event, all the cds were sent to the charity.
This is not available for immediate delivery. Please call us to order.
As Pictured: $25.00