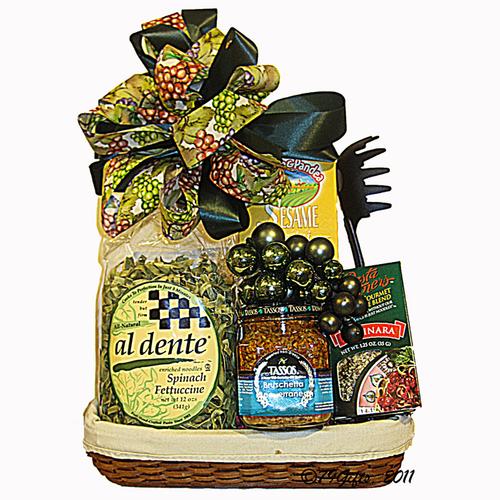 "Creative, responsive, pragmatic, price-sensitive, results-driven, unflappable. And a delight to work with. These are a lot of superlatives to describe any one person, but emphatically earned by Lise and her team at BasketWorks. Lise has crafted custom holiday baskets for my clients for a number of years and I cannot recommend her highly enough. Each year she outdoes herself. And she inevitably makes me look good. What more can you ask for?
Andrew S. Jacobs,CFP, Principal & Financial Advisor
Bernstein Private Wealth Management"
Pasta for Two
We really love our pasta! The pasta for 2 basket is built in a wood bottomed, fabric lined bread basket. We included spinach fettuccine, Tassos Bruchetta, breadsticks, pasta spoon, and dry sauce mix. Larger sizes may include coffee, candles, and desert items. Accented with seasonal silks.
As Pictured: $50.00
---
Add something extra to make this gift more special!