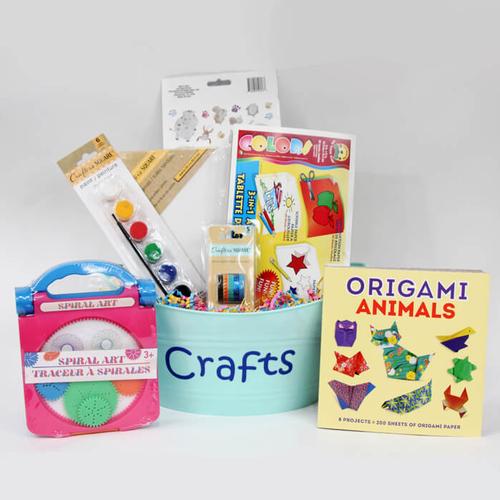 I have used BasketWorks for years. Lise and her team always come up with creative, thematic gift baskets that showcase our company. I have and will continue to recommend BasketWorks to my family, friends and colleagues. Caryn McArdleAdvanced Sleep Therapy, Ltd.
Kid's Craft Collection Gift Basket
It can be tough to find the right gift for kids - too big for toddler toys, too little for teen items. We are proud to offer this Kid's Craft Collection gift basket, full of items perfect for the 5-12 year in your life! Built in a reusable storage tub, this package includes:
Oragami Animal book complete with instructions and 200 sheets of paper

Book of assorted paper - construction, tracing and scribble
6" x 8" stretched canvas
Paint and brush
Travel size spiral art set
Five piece decorative tape
Stickers
Larger packages may include additional crafting supplies or kits, colored pencils, crayons, scratch and draw animal books

As Pictured: $45.00
---
Add something extra to make this gift more special!