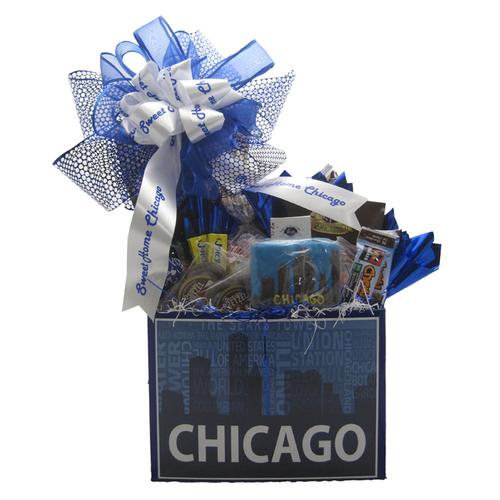 "When Lise stood up at the Northbrook Chamber meeting for some reason I got the impression that she could design a spectacular gift basket for one person or maybe a small group of people. Little did I know she has huge capabilities and loves orders of 2,000 baskets. And here's the thing -- tisket, a tasket every basket is a work of art filled with delights everyone loves.
I don't just love Basketworks; I lurve Basketworks.
Jim Ardito, President Ardito Creative Enterprises "
Sweet Home Chicago
Sweet Home Chicago gift basket with an emphasis on the
sweet
. Chicago is known for some of the best sweets around and we are pleased to offer this collection of some of our favorites. Each package will vary slightly so that we may always bring you the freshest product possible, but as pictured this package includes Forbidden Sweets decorated krispie treat, Vosges Mo'Bacon bar, Long Grove Confectionary dipped pretzels, Matt's cookies, Gary Poppins popcorn, Tootsie Rolls pops, Quaker bars, Wrigley Gum, Berghoff Root Beer & Cracker Jacks, plus peppermint straws and caramel. Smaller packages will contain less product, larger packages will contain more, always built in our in our proprietary Chicago theme gift box.
As Pictured: $75.00
---
Add something extra to make this gift more special!