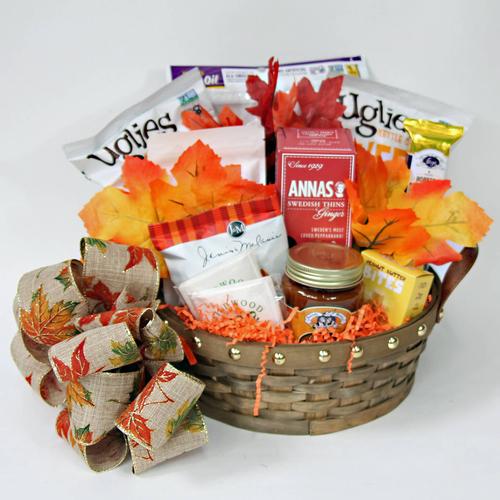 I have used BasketWorks for years. Lise and her team always come up with creative, thematic gift baskets that showcase our company. I have and will continue to recommend BasketWorks to my family, friends and colleagues. Caryn McArdleAdvanced Sleep Therapy, Ltd.
Fall Fiesta Gift Basket
Some of our very favorite fall flavors fill this basket to make a perfect Thanksgiving gift! We start with a seasonal basket, accented with fall leaves and add;
Crunchmaster crackers
Pumpkin butter

Anna's ginger cookies
Sally's nuts

Mulling spices
Sweet potato chips
Peanut butter bites
Vosges Walnut marshies
Cheese straws
As Pictured: $100.00
---
Add something extra to make this gift more special!