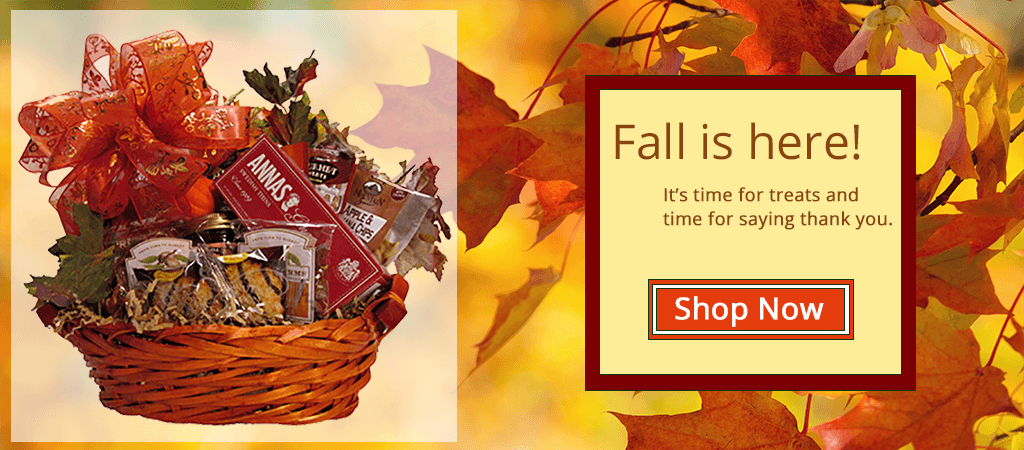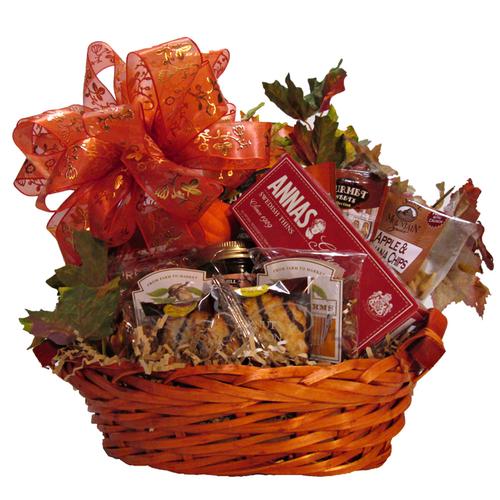 Passion for Pumpkin
Ginger, coconut, apple and of course, pumpkin make a fabulous fall medley of flavors in our Passion for Pumpkin basket. While we thing this basket is great any time, it is a perfect Thanksgiving package! We build in a heavy weave burnt orange woven basket and include:
South Bend Chocolate pumpkin sandwich cookies
South Bend Chocolate white chocolate pumpkin pretzels
Pumpkin butter
Ginger cookies
Coconut macaroons
Spiced almonds
Cappuccino and

Dried apple and banana chips

Cubs Collection Gift Basket
Chicago Cubs fans love their team! This basket of baseball and Cubs items is the perfect gift for the Cubs devotee. This package is layer upon layer of Cubs! We start with the book
100 Things Cubs Fans Should Know
and then add:
Wrigley Field puzzle
Uno game or Rubik's cube
Cubs Pez
Cubs Radz
Cracker Jacks
Beer Nuts
Sunflower Seeds
Root beer (one of our home town favorites, Goose Island or Berghoff's)
Cubs Koozie
Cubs Krispie Treat

Caramel corn
Notepads
And our favorite item - a cobalt blue Wrigley Field glass.

Cubs Cooler Gift Basket
The Chicago Cubs are hot, but this package will help your fan keep cool! Built in a soft sided 6 can insulated Cubs cooler, this package is full of baseball snacks. Included in this package:
Cracker Jack
Beer Nuts
Root beer (one of our home town favorites, either Goose Island or Berghoff's)

Jelly Bellys
Gary Poppins flavored popcorn

Honey twist pretzels
Movie theater box of candy
We add a Cubs theme Pez dispenser and cobalt blue Wrigley Field glass sure to thrill your favorite sports fan.

Basketworks is a woman owned gift basket company, located in the north suburbs of Chicago (specifically Northbrook, IL) since 1997. We are proud to offer a variety of gifts and gift baskets appropriate for all occasions. Each of our packages is built to order, allowing for customization at no additional cost to our clients. We hand sign every card and hand tie every bow. We can customize your gift with imprinted ribbon or even include items with your corporate logo and colors.

Our staff attends half a dozen or more gift and gourmet shows each year to search out new products and to taste and select every item we use in our gift baskets and gift packages. We proudly offer gluten free, kosher, heart healthy, and other special diet foods, all tasted for quality by our own staff.

We've won multiple national industry awards including 1st place for Executive Design. We were named to Gift Basket Review's Top 50 Gift Basket Companies. We won a 2nd place grant in the First Annual Idea Cafe "Mom Grant." We've been featured in the Chicago Tribune, on WBBM Radio, in "The Gift Basket Design Book", Rave Reviews Magazine & GBA Digest.

Send a truly special gift to someone. Call us today at 888-794-4387!

"Our company used BasketWorks for a raffle item at our Northbrook Facility Grand Opening in May – and what a fantastic choice that was! Lise worked diligently to provide us with a beautiful, custom Gift Basket to fit our theme and our budget needs. She is not only professional and easy to work with, but her baskets are filled with a wonderful array of unique and delicious items, as well as being pleasantly packaged down to the very last detail – she even does custom ribbons! We could not have been more pleased with our raffle item, and will definitely use BasketWorks in the future!
Rebecca H. Metro Self Storage – Northbrook "